D&O Liability Insurance
Our mission is to provide as an added member benefit to the IAFF Affiliate Locals—A Limit of Directors & Officers Liability and Employment Practices Liability coverage at an affordable price with a simple application and underwriting process via a Group Purchasing Product.
The IAFF program is not available in Illinois and Wisconsin at this time.
Learn More
Download our PowerPoint for a comprehensive explanation of our D&O Liability Insurance Coverage.
Download PPT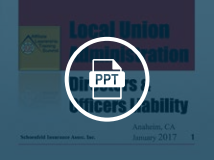 IAFF Fidelity Bond
The IAFF Bond provides $5,000 limit for each Local at no charge, higher limits are available*
The bond covers faithful performance by employees, officers, elected officials
It is recommended that each Local carry a minimum limit of 10% of assets (Cash, Checking or Asset Accounts)
Financial Records must be maintained by the Local to assist in proof of loss.
View IAFF Bond Rates
View IAFF Bond rates above the basic $5,000 Limit
Download PDF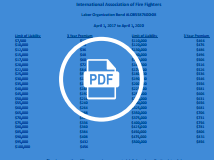 Make VISA/MC Credit Card Payment
* 2.95% service charge for Credit Cards. We are not able to process credit cards from the following states (CA, CO, CT, FL, KS, MT, ME, MA, NY, OK, TX).